Treasured Memories: Christmas Classics
Favourite Christmas Classics...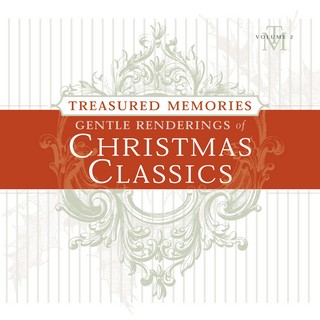 Treasured Memories: Christmas Classics ~ my dream continues with the second CD of the 'Treasured Memories Music' series. As all of us have our treasured Christmas songs, I too, had special Christmas songs that have always been close to my heart....and I wanted to record them and share them. In keeping with my series of 'gentle renderings of timeless classics'...this CD follows in the same vein...intimate...and gentle. I wanted to surround touch one's heart and move one's soul.
With this CD, I used a different creative team to achieve something a little different, something very special. The gifted John Sheard, of CBC Vinyl Cafe fame, led the team with his amazing skill on the piano and his rich arrangements of each song's orchestration. I also had the fortune to have John produce this CD. One never truly understands all the work and expertise that goes into producing a CD, and John is a master at it! Also, with John, comes his never-ending supply of studios, engineers, and talent...and on this project we worked at Casa Wroxton Studio with the talented engineer Nik Tjelios. Once completing our recordings, the mastering process was put in the hands of Nick Rawson, a skilled professional who has been in the recording business for what seems like 'forever'.
I realized some time had passed since my first photo shoot with Helen Tansey, who took the photo used for my first CD Treasured Memories: Quiet Moments and so it was time for another visit. With this CD series in mind, I decided it would make sense to have a photo shoot with Helen Tansey and include shots that could be used for other upcoming CD's.
With the help of Patrick Duffy from Attention, we decided on the right photo for the CD and then he created the CD graphics for the CD. Until I met Patrick, I never truly appreciated all the work that goes into a CD and all the finessing needed of each and every detail. Patrick is the best, as he is passionate about his work, detailed and the ultimate professional.
Now with everything in hand...the recording master and the CD graphics the last job is to press the CD. I used Joe Wood from RDR, who has always been a wealth of knowledge!
As the saying goes "It takes a village..." and so, I want to share the team and credit those who helped make this CD a success:
Produced and Arranged by John Sheard
Recorded & Mixed by Nik Tjelios at Casa Wroxton Studio
Additional Recording by John Sheard
Mastered at The Other Studio by Nick Rawson
CD Design by Patrick Duffy for Attention
CD Photo by Helen Tansey
CD Pressing by Joe Wood at RDR Music Group
The song list for Treasured Memories: Christmas Classics:
O Holy Night (Words by John Sullivan Dwight, Music by Adolphe Charles Adams, Traditional)
Silent Night (Words by Joseph Mohr, Music by Franz Gruber, Traditional)
Hark! The Herald Angels Sing (Words by Charles Wesley, Music by Felix Mendelssohn, Traditional)
O Come, O Come Emmanuel (Traditional)
Away In The Manger (Traditional)
O Come All Ye Faithful (Adeste Fideles) (English words by Frederick Oakeley, Music by John Reading, Traditional)
Still, Still, Still (Words by John Rutter, Music by Walter Ehret)
The Little Drummer Boy (Words and Music by Katherine Davis, Henry Onorati, Harry Simeone)
What Is This Lovely Fragrance (French, Traditional)
Angels We Have Heard On High (Traditional)
Copyright © Glori Gage 2010 - 2021