Bio ~
As a child, I always loved to sing and was often found on our backyard swing… singing, singing, and singing. Our yard backed onto a spacious park, and my first audience was the unsuspecting wildlife that lived there. I do not remember having many songs in my repertoire at that tender age, but I remember making up songs about anything… and I mean anything that came to mind… or came into sight. I felt such joy, such gleeful abandon to be in my own little world that allowed me to let my voice soar.
I believe my gift of song came to me from my mother, Robin, as she loved to sing and inspired me in so many ways. I followed in her footsteps in taking singing lessons at the Royal Conservatory of Music, singing at our Church, and joining her and other talented individuals in a group called "Happiness Is…" which brought entertainment to senior residences in our area. She showed me the joy of sharing my gift with others. I would later add my father's name—Gage, becoming Glori Gage, as a tribute to him. I felt with my parents' gifts and love, I was ready for the road ahead.
My very first collection of songs, were recorded in my basement for a high school Theatre Arts project. I had always been a fan of Judy Garland, so it was an assortment of her beloved songs, which included Embraceable You, Look for the Silver Lining, and, of course,Over the Rainbow. With my trusty tape recorder and the help of my dear neighbour Helen Hughes on the piano, I was on my way. I still have that old dusty cassette tape with its microphone pops, vocal mistakes, and tiny stars that my treasured teacher, Mr. Brown, made a mark beside his favourite songs. Those tiny stars meant the world to me, for it crystallized that I could create something that could be a 'favourite' to someone else. The seed was planted.
As my career unfolded, I was fortunate to follow my heart and the opportunities that were presented to me. One of which came about with the opening of Canada's Wonderland, where I was cast in Those Magnificent Movies. It was a fabulous musical stage production where we celebrated those magnificent movies of the Silver Screen. Each solo performer hired to replicate an icon from the movies. They hired me to recreate, none other than Dorothy from The Wizard of Oz, and sing Over the Rainbow. It was my first time on a professional stage, to work with a gifted group of performers, and the brilliant Danuté Miskinis, our director/choreographer.
I also received the honour of being the very first performer to fall into the orchestra pit! Yes, I did this in grand fashion when I was performing in the Meet Me in St. Louis park scene where I wore a bright orange long lace rimmed dress with an oversized hat complete with feathers, and a parasol. As I strolled along the edge of the stage…it only took a second or two before I was in the pit. I do not know what the audience, or my dear singing partner Michael Day thought of this event, for my fall did not leave me unseen by the audience. My feet slid through the safety net and left me visible from the neck up. Being in a state of shock and not knowing what to do, I just continued to sing! And so there I was… simply 'a singing head' with a large orange hat with feathers in place and a parasol in hand.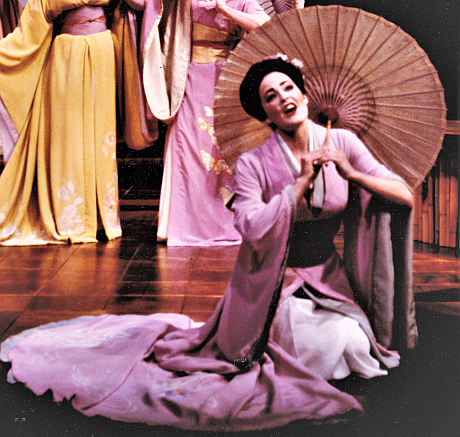 After my first season had ended at Canada's Wonderland, the prestigious Stratford Festival, in Stratford, Ontario contracted me to be part of the original cast of The Mikado. I was coming from the world of Oz (… or I should say Wonderland) and I did not fully realize the significance of being part of this renowned Festival and the exceptional talent in all areas of the theatre.
It was an exciting time at Stratford, with the partnership of Artist Director John Hirsch and director/choreographer Brian Macdonald. With the success of The Mikado, and the following season's The Gondoliers, our company had the privilege of taking both productions on a Canadian tour and then film them as television specials for CBC. It was truly the will and determination by John Hirsch and Brian Macdonald that made this happen. Their vision to share these productions was great, and no sooner had we completed the filming for CBC, we were packing up for London, England.
Our production of The Mikado was to perform at a very special theatre, the Old Vic in London, England, which had been purchased and newly refurbished by our beloved Ed Mirvish… also known as 'Honest Ed.'
On opening night, the theatre was graced with the presence of Princess Anne, Kenneth Thompson, and the Mayor of Lambeth. It was a magical evening and after our performance, while still in costume, they presented us to Princess Anne. She was charming as she greeted us and looked radiant in her beautiful silk designed dress, which we believed was worn to honour our Japanese themed production.
We remained in London for six glorious weeks and there were many a day that I would pinch myself as I rode 'the Tube' to the theatre. Sometimes after our show, a group of us would venture to this little place under a bridge for the best fish & chips or visit an English pub! I learned so much about myself and others through my travelling. It opened my eyes to a whole new world, as I experienced historical sites, new cultures, and amazing people.
With our last performance at the Old Vic, many of our cast were returning to the Stratford Festival for their upcoming season. I, on the other hand, decided to move in a new direction and return to Toronto with a wish to land work in film and television.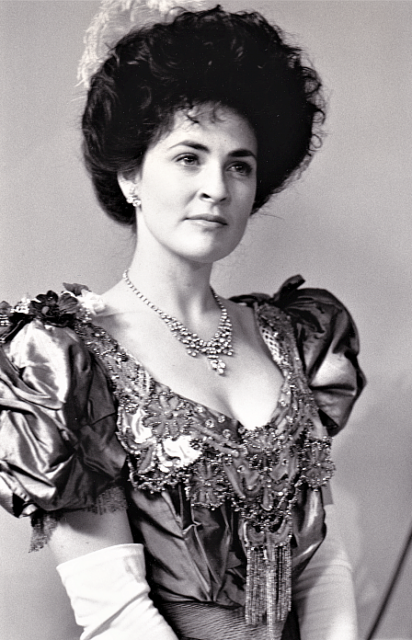 My wish was granted with the opportunity to play Elvira Evans in Anne of Green Gables: The Sequel. Director/producer Kevin Sullivan cast me as the "other woman" and although not a large part, I had the amazing chance to be flown to PEI where we would shoot the very first scene of the film. I had never been to PEI, and so it was heavenly, to be shooting our scene at the seaside resort ~ Dalvay By The Sea (in the script known as the White Sands Hotel) with all its beauty, history and elegance. I felt like it took me back in time as they gathered us together outside this majestic hotel, in our vintage finery, looking out to the sight of spectacular sand dunes which adorned the water's edge for as far as the eye could see.
Again, I had the opportunity to work with the best of the best, being Megan Follows as the beloved Anne Shirley… a phenomenal talent and professional. As seen by this photo, we had great fun as we continued to tease each other, on and off the set, with our rivalry of our beloved Morgan played by Frank Converse. My work with Kevin Sullivan continued, when in his next production—Lantern Hill, I was cast as Evelyn Morrow.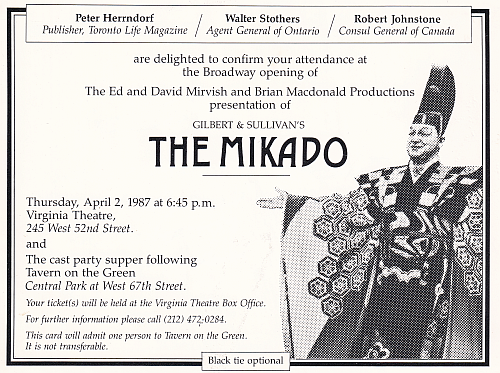 When I thought my Mikado days were over, something wonderful happened with the partnership of Ed & David Mirvish and Brian MacDonald with their plan to take The Mikado on a six-month tour. It began at the Mirvish owned Royal Alex theatre in Toronto and then off to tour the United States, which included the Virginia Theatre on Broadway in New York City. I never had set my sights on Broadway, but here we were being nominated for two Tony Awards and back home, seven Dora Mavor Moore Awards.
It would be after this tour that I would hang up my exquisite hand-painted silk kimono, designed by the incomparable Susan Benson, and close this chapter on my cherished Stratford years.
Music was always part of my life throughout this time; I was always in and out of the studio recording my own songs. I was pleased to be recognized by FACTOR (Foundation to Assist Canadian Talent on Records) to be included on two of their Compilation CD's. My original songs, Things You Do and Heart of Hearts were chosen to be released on On The Right Tracks 5 and On The Right Tracks 6, both of which were distributed to radio stations and record labels across Canada. I will never forget the moment that my song first played over the airwaves. My sister and I just stared at the stereo… there it was… my song on the air!
I have always loved being in the studio, for I love the intimacy that a sound studio provides… just me, the music, and a microphone. Also, time in the studio always takes me back to those treasured memories of being on my backyard swing…my own little place to let my voice soar!
The seed that had been planted so long ago, had now grown into a desire to create something very special, and it was at this time that I created my CD series Treasured Memories, a collection of four CDs created in a style best described as 'gentle renderings of timeless classics'. I felt with the challenges in our world and in our lives that we needed something gentle… something that would calm the heart and feed the soul.
The first CD ~ Treasured Memories: Quiet Moments, a tribute to those treasured songs of the 30's & 40's and recorded in analog format to truly give it a feeling of 'a time past' and included Look for the Silver Lining. The second CD ~ Treasured Memories: Christmas Classics, a collection of traditional Christmas songs which have always been close to my heart and included O Holy Night, Silent Night, and What is This Lovely Fragrance. My third CD ~ Treasured Memories: Classic Ballads, a collection of beautiful ballads that dominated the radio airwaves in the 70's, including John Denver's Annie's Song. And my fourth CD ~ Sacred Songs a collection including Be Still My Soul, Ave Maria, and Here I Am, Lord. The details of the story and team behind each CD is outlined in Music. Although this CD series is now sold out, a selection of individual songs can be downloaded as an MP3. It is amazing to know with this new age of technology, my music continues to be heard all around the world.
And now a new direction with the release of my book "Buzzwords: Directing you
r Mind to Health, Happiness and Fulfillment." I have been using these mental prompts or what I c
all buzzwords as a tool throughout my life keeping me focused, balanced, and moving forward i
n a positive and proactive way. It is through my love of philosophy and my years of journaling
that this collection was created. My greatest hope is that it can help others, as it has helped me.
Thank for you for taking the time to read about my life… my journey. I hope that in my sharing it has brought a smile to your face, rekindled a treasured musical memory, or inspired you in a new way.
My wish is that something in my life touches yours.
~ Glori