Treasured Memories: Quiet Moments
Timeless Classics Songs from the the 1930's & 1940's...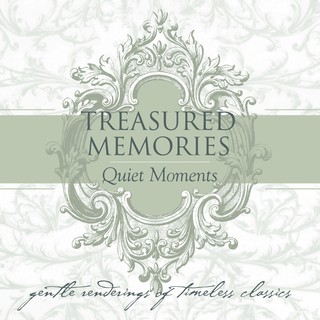 Treasured Memories: Quiet Moments ~ is the first CD of the 'Treasured Memories Music' series. It is a collection of treasured songs of the 30's & 40's that I remember as a child, and I hope hold a special meaning to others.
In my search to start this CD, it was suggested that I contact the talented David Warrack. A renowned Canadian composer, conductor, pianist, and orchestrator. David brought his talents on the piano and love of this special music to this project.
We would meet at David's home to work through the list of songs that I had collected as possible choices for this specific CD. There we would be David on his piano...and I singing my heart out beside him. What fun we had, at times starting a song and then looking at each other and deciding 'not right' and moving on to the next. I will always have the most wonderful memories of this time together.
With this first CD, I wanted to create something intimate & gentle, something that would be reminiscent of the days when people would gather around the piano and sing. And so, I decided that this CD would be recorded with just the piano & voice.
David suggested doing something a bit different and recording it in an analog format to give it a true feeling of 'a time past'. We recorded this CD at Acrobat Studios with owner/engineer Jim Morgan....a wonderful studio complete with a Boston Steinway 7'3" Grand Piano.
There was something so surreal about finally being in the studio, there I was in an intimate sound booth, head phones on and microphone in place....and David Warrack was in another sound booth playing this Steinway Grand piano....my dream became a reality. I will always be grateful to David for sharing his time and talents with me for my very first CD.
As the saying goes "It takes a village..." and so, I want to share the team and credit those who helped make this CD a success:
Produced/Arranged by David Warrack
Recorded at Acrobat Studios
Engineered by Jim Morgan
Mastered at Lacquer Channel by George Graves
CD Design by Patrick Duffy for Attention
CD Photo by Helen Tansey
CD Pressing by Joe Wood at RDR Music Group
The song listing for Treasured Memories: Quiet Moments:
For Sentimental Reasons (William Best/ Derek Watson, Universal - Duchess Music Corp.)
The Very Thought of You (Ray Noble, WB Music Corp.)
How are Things in Glocca Morra (E.Y. Harburg / Burton Lane, Chappel Music Co.)
Pretend (Frank La Vere / Cliff Parman /Dan Belloc / Lew A. Douglas, Brandom Music Company)
Embraceable You (Ira Gershwin / George Gershwin, New World Music Corporation)
Always (Irving Berlin, Irving Berlin Music Corp.)
All The Things You Are (Oscar Hammerstein / Jerome Kern, Universal-Polygram Int'l Publishing Inc. Co.)
Look For The Silver Lining (B.G. DeSylva / Jerome Kern, Redwood Music Ltd. / Universal-Polygram Int'l Publishing Inc. Co.)
The More I See You (M.Gordon / H. Warren, Bregman Vocco & Conn Inc.)
I'm In The Mood For Love (Dorothy Fields /Jimmy McHugh, EMI Robbins Catalog Inc.)
I Believe (Ervin Drake / Irvin Graham / Jimmy Shirl / Al Stillman, Dramatists Guild Publishing / Hampshire House Publishing Corp. / Lindabet Music Corporation / Gentlemen Jim Music Corp. / Scion North Music LLC)
I Love You So (Adrian Ross / Franz Lehar, Glocken Verlag Limited)
Copyright © Glori Gage 2010 - 2021